There is no shortage of Texas pride in the lone star state. Combine this with the iconic Texas shape and you've created an opportunity for Texas-themed gifts perfect for the proud Texan in your life. After all, would anyone really want a Nevada-shaped waffle iron or a game of Monopoly inspired by Maryland?
Below are our favorite 15 unique Texas-themed gifts for the Texan that has everything.
TexasOpoly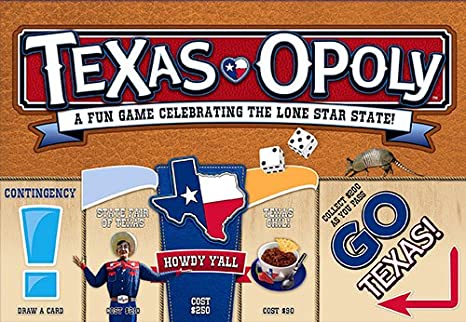 Our family has always loved the game of Monopoly and we've probably played it 100 times. I must admit, it was more fun for me when the kids were little but as they learned my strategies they've turned them around on me and usually beat me. However, it is still a blast, especially when playing TexasOpoly with tokens including oil rig, pepper, football, Longhorn, and cowboy boot landing on properties such as the Texas State Fair and Texas Chili. Instead of being sent to jail, you'll end up in a much worse place, "Not From These Parts."
Buy it from Amazon – https://amzn.to/3uUO4mU
Texas-Shaped Waffle Maker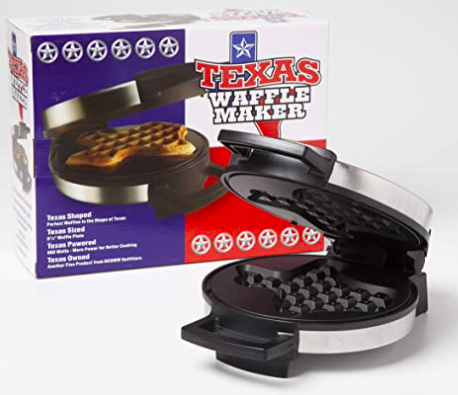 The only thing better on a Saturday morning in Texas than homemade waffle breakfast? A homemade breakfast with Texas-Shaped waffles. We purchased one of these for Christmas last year and it was a huge hit with our family. It brings a Proud Texan smile to my face every time I see my kids cooking up a Texas-shaped waffle.
Find it here on Amazon – https://amzn.to/3e985Aj
Homesick Texas Scented Candle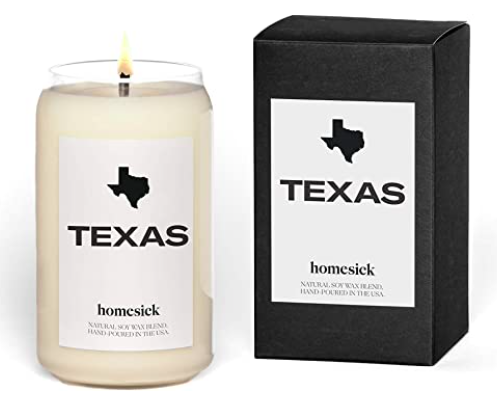 If you aren't in Texas, at least you can enjoy the Texas scents of leather, pine, and citrus Notes of cyclamen and musk balanced by the invigorating energy of the Rodeo. Each time you light up this Texas Scented candle it'll bring you right back to your childhood on your Texas ranch.
Light one up today from Amazon – https://amzn.to/3qlIKFr
The Great Book of Texas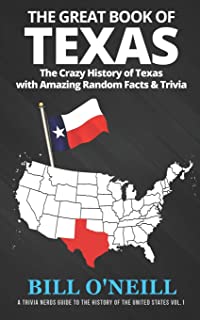 If you Texas is interested in learning more about Texas then you've got to grab this Great Book of Texas, the Crazy History of Texas with Amazing Random Facts & Trivia. There is so much more about the Lone Star State than the Alamo and JFK's assasination. This book will take you on a journey through Texas's history, pop culture, sports, folklore, and so much more!
Pick it up today from Amazon – https://amzn.to/2MQLixU
Texas Serving and Cutting Board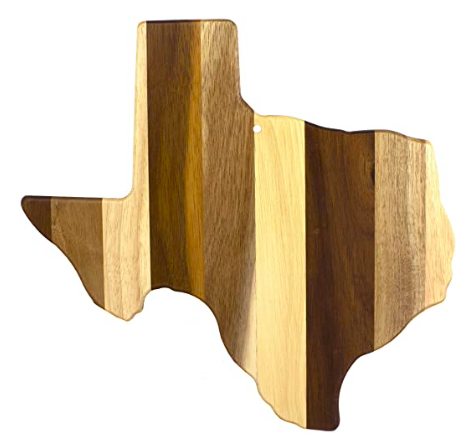 If your Proud Texan loves the kitchen or outdoor grill then you've got to grab one of these Texas-shaped cutting boards. After all, who wants a cutting board shaped like, Wyoming?
Cut it out and grab one from Amazon today – https://amzn.to/3sK4ht2
Texas Flag Throw Blanket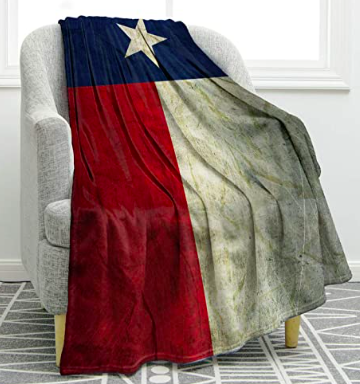 If you like to snuggle up with your Texan and watch a good western then you can't be without this huge Texas Flag Throw blanket. This 50 x 60 inch blanket is warm, soft to the touch, lightweight and ideal for the sofa, living room or bedroom.
"Throw" it in your Amazon cart today – https://amzn.to/2OodIjf



Texas Ice Cube Tray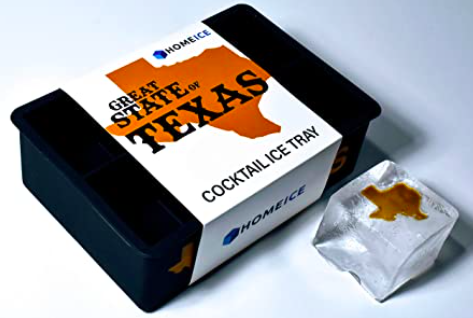 Whether your Texan prefers a Texas cocktail or a Dr. Pepper, they'll love these ice cubes with the great state of Texas. This silicone ice mold makes 6 large ice cubes measuring 2x2x2 inches each. It is made from food-safe, flexible silicone which is dishwasher safe and oven safe up to 400 degrees for baking.
Pick it up Amazon today – https://amzn.to/3sOQ9yL
Texas Stemless Wine Glass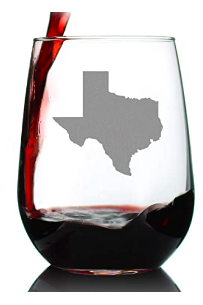 What a unique gift for any Texan and who enjoys a good glass of wine! This large stemless wine glass includes an etched design of the State of Texas engraved by hand and will never wear off. This is dishwasher safe so it is perfect for the everyday wine drinker!
Pick it up today at Amazon – https://amzn.to/38b9kuW
Texas Flag Beer Bottle Opener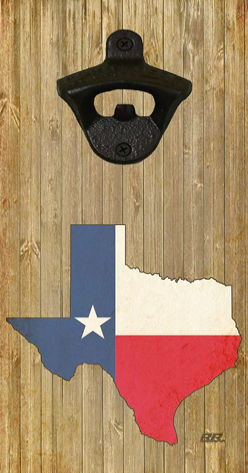 We love this large wood bottle opener, measuring 10 inches high and 5 inches hgih including both a Texas State Flag and a high quality bottle opener. Also comes with a keyhole sot for easy hanging. This is the perfect decoration for the Texas-themed bar, man cave, patio or kitchen.


Lone Star Custom Hitch Cover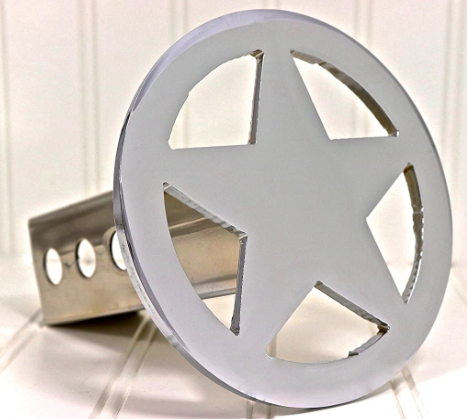 Manufactured in the great state of Texas, this Lone Star hitch cover is perfect for your Proud Texans truck, jeep or whatever. The polished chrome, mirror-finished Lone Star Hitch Cover is 5-3/4″ in diameter fits a standard 2″ receiver. The square tubing is 6″ long with 3 sets of holes. 1/4″ thick steel.
Grab one for your Texas Truck at Amazon – https://amzn.to/3kKWkBa
Republic of Texas 1845 Map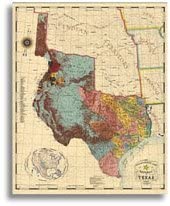 I love these old historic Texas maps. This beautiful map, commissioned in 1986 to commemorate the Texas Sesquicentennial depicts Texas nationhood like no other. Featuring the original 36 counties of the Republic, 78 Spanish land grants along the Rio Grande and the most accurate study published of the Santa Fe Trail, this is a wonderful historical resource and a genuine work of art. Printed on sturdy, art-gallery stock, it is especially suitable for framing.
Grab it today from Amazon – https://amzn.to/3rmDfYA
Rudy's Texas Bar-B-Q Sause

From one of the best BBQ pits in Texas, Rudy's Original Sause has been perfectly smokin' signature Real Texas Bar-B-Q—over thirty years now. Grab a bottle of this signature house Sause with a taste as big as the Lone Star State itself. Sweet, Spicy, and Smokey, Rudy's Original Sause pairs best with poultry, ribs, and of course brisket! Your Texan will love you for this gift!
Grab a bottle from Amazon today – https://amzn.to/38dpJ22
Come and Take Pint Glass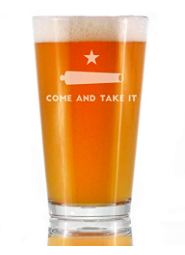 Great gift for Texan who celebrates the rallying cry of the Battle of Gonzalez. This 16 oz pint glass with heavy weighted bottom includes with the "Come and Take it" etched text (not printed) and will never wear off, just like the battle cry itself!
Pick it up today at Amazon – https://amzn.to/2Os0PVq
Distressed Texas Flag T-Shirt
Your Texan will love this distressed Texas flag t-shirts made from are 100% Pre-shrunk cotton. They are fully machine washable comfortable to wear any time of the year and fit great.
Add one to your Amazon cart – https://amzn.to/3qnJhHi
Giant Texas Belt Buckle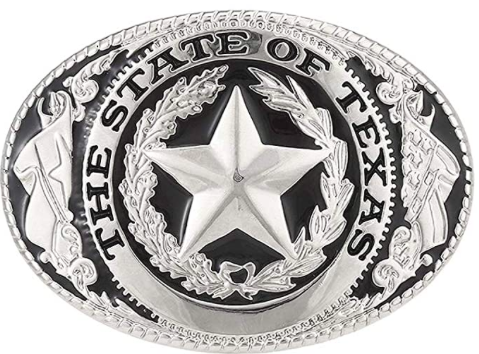 Every Texan needs a good belt buckle for a night on the town. This stunning buckle includes a Texas Lone Star with beautiful leave' carving around it. The buckle measures approximately 3.71″ by 2.56″ and weight 77.1g which can fit standard 1.5″ belts. Made of high quality zinc alloy, this polished Texas cowboy belt buckle is strong and sturdy, ain't easy to break, and will never fade.
Buy it today from Amazon – https://amzn.to/388CFGe