Texas is home to famous people, famous landmarks, famous experiences, and famous pride. If we had to narrow it down to just a few things that make Texas famous, we'd say the size, pride, food, history, and of course, longhorns. Below are 15 of our favorite things that attract over 7 million visitors to Texas each year.
The Alamo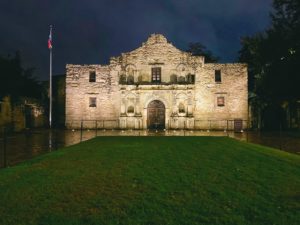 The Alamo, located near San Antonio, is a Spanish mission and fortress that is famous for its role in the Texas Revolution. In 1835, a group of 180 volunteer Texas soldiers including Jim Bowie and Davy Crockett, battled against 600 members of the Mexican army and courageously held up the fort for thirteen days before being overpowered and killed. The defeat became a rallying cry for other battles in Texas and the phrase "Remember the Alamo" was adopted. The Alamo is visited by 2.5 million people each year and remains a symbol of the state's struggle for independence and liberty.
BBQ
Texans love their BBQ, and it has a rich history in Texas. The meat smoking tradition was brought to central Texas by the Czech and German settler during the mid-nineteenth century and soon became a staple of Texas cuisine. So much so that four styles of Texas BBQ have become popular around the different geographic regions. In East Texas, ribs are cooked slowly over hickory wood and marinated in a sweet, tomato-based sauce until the meat is basically falling off the bone. Central Texans prefer that the meat be rubbed with spices and cooked over indirect heat from pecan or oak wood. Out in West Texas, ribs are cooked over direct heat from mesquite wood giving it a somewhat bitter taste. The South Texas style features thick, molasses-like sauces that keep the meat very moist. You'll want to try each variety, then jump into the great Texas BBQ debate with your own opinion of which one's best!
Football
Texans love football. So much so that they have two NFL teams, the Houston Texans, and the Dallas Cowboys. This quote from legendary Cowboy's Coach Tom Landry says is it all, "Football is to Texas what religion is to a priest." It isn't uncommon in Texas to spend $30m on a high school football stadium and pack it with 40,000 fans for a Texas high school playoff game. On top of that add, add the great rivalries between historic college teams such as Texas, A&M, Baylor, TCU, Tech and SMU.
Crude Oil
It all began on Jan. 10, 1901, when the Lucas No. 1 well blew at Spindletop near Beaumont spewing mud, gas, and oil more than 100 feet into the air. With that dramatic fanfare, Texas' economy was wrenched from its rural, agricultural roots and flung headlong into the petroleum and industrial age. Oil profoundly changed the culture of the state, and it became a place where fortunes could be made. Historically, Texas has been the largest producer of oil in the US, with oil production making up 9% of the Texas gross domestic product. These numbers only seem to rise with 2018 marking the highest year of oil production in Texas ever, resulting in the state generating 1.59 billion barrels of oil (40% of the oil produced in the U.S.)!
Texas Longhorns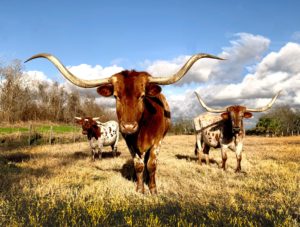 Commonly seen while driving along Texas backcountry, the Texas Longhorn is a breed of cattle known for its characteristic horns, which can extend to 7 feet.  The Longhorn also serves as the official Texas State Large Mammal, the official symbol for Fort Worth as well as the mascot for the University of Texas at Austin.
The Size
Texas is well-known for its massive size. As the second-largest state in the US in both land mass and population, the state of Texas encompasses over 268,597 square miles. To put that into perspective, Texas is twice as big as Japan or Germany and 10% bigger than France. If Texas were a country, it would rank 40th largest in land size.
Texans live up to this distinction and love to wear big boots, big belt buckles, and even bigger hairstyles. The size of the state and the larger-than-life attitude of some of its residents have led to the saying that "Everything is bigger in Texas." Another common term, "Texas-Sized" is used to describe something that is large compared to other objects of its type. Even the state's capital building is larger than the United States Capitol building in Washington D.C.!
JFK Assassination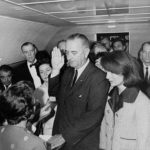 On Friday, November 22, 1963,  John Fitzgerald Kennedy, the 35th President of the United States, was assassinated at Dealey Plaza in Dallas, Texas. Kennedy was fatally shot while traveling with his wife Jacqueline, Texas Governor John Connally, and the latter's wife Nellie, in a Presidential motorcade. The JFK assassination sparked a nationwide reaction of grief and panic, as well as conspiracy theories that are still debated to this day.
Chili
Texans love their chili almost as much as BBQ. Some people believe that it all started back in the 1840's as Texas cowboys pounded beef fat and dried beef with chili peppers and salt to make trail food then later boil it to make a dish they called chili. The legend says that cowboys planted oregano, chiles, and onions along their well-traveled trails then harvested the spices, onions, and chiles on their way back and combine them with beef to create a chili recipe called "Trail Drive Chili". The style is especially unique because it does not contain beans or tomatoes like other styles of chili and instead, the base is primarily ground meat. Don't be surprised if you find that many Texans have their own "secret chili recipe" as annual chili bake-offs can get quite competitive!
The Heat
Texas is one of the hottest states with about seventeen Texan cities (including Dallas, El Paso Austin) listed among the 50 warmest cities in the country. During summer, the maximum temperature of Texas ranges from 79°F (26°C) in Galveston Island and the West Texas mountains to 100°F (38°C) in other places like the Rio-Grande Valley. While the eastern half of Texas is humid and subtropical, the western half is semi-arid, and much of Texas actually varies greatly in climate. This is primarily because the Gulf Coast brings sea winds and moisture to the east, but the moisture evaporates in the vast expanse of desert to the west.
Don't Mess with Texas
Texians love a good slogan, and while they are all "Remembering the Alamo" they also love to warn visitors, playfully or not so playfully, "Don't mess with Texas." The slogan began as a statewide advertising campaign in 1986 to reduce littering on Texas roadways and quickly became a Texas cultural phenomenon. It is officially a trademark of the Texas Department of Transportation, but "Don't Mess with Texas" has become a frequently cited example of pride in Texas culture.
Live Music Capital of the World
Over the years, country music has evolved into its very own musical genre, which is a blend of outlaw country with traditional country sounds. The themes of the songs under this genre usually revolve around the working man's struggles, along with those that touch on nature and local tradition. A focus on music is especially prevalent in Austin, as it is known as the Live-Music Capital of the country since it has more live-music venues per capita than any other state! From jazz to country, to indie rock to blues, you can find the music you love in any of the almost 200 venues open each night!
Cowboy Boots!
In 2007, Cowboy boots were identified as the official state footwear of Texas, because of its undeniable ties to Texas history and culture. After the Civil War, Texans became highly involved in cattle farming. Their unique needs led to the invention of the cowboy boots, footwear that is long-lasting, can be worn comfortably even while on horseback, and is relatively easy to wear. Wherever you go in the state, keep your eyes peeled for Cowboy boots, you will find them worn everywhere!
Rodeos
Texas is known for being a leader in the rodeo scene, in fact, the first rodeo ever was held in Pecos, Texas! The small town continues to host its annual rodeo and the state along with thousands of other rodeos including the Southwestern Exposition and Livestock Show and the Houston Livestock Show and Rodeo, which both draw thousands of cowboys from across the country to compete with each other.
Wool
The wool and mohair industry in Texas dates from the arrival of the first sheep and goats that Spanish soldiers and missionaries brought with them to Texas in the early eighteenth century. Centuries later, Texas is now the largest producer of wool, with more wool coming from Texas than any other state in the United States!
NASA
If you've ever watched a space movie, you have probably heard the phrase "Houston, we have a problem!" When things don't go quite right in the universe, don't be surprised when people call on Texas! NASA's space center in Houston, Texas was established in 1961 and continues to lead NASA's efforts in human space exploration and is the lead center for U.S. space missions involving astronauts.