Throughout the period of the Republic of Texas and ending with the Compromise of 1850, Texas claimed a large area to the north and west of its current boundaries. This area included a large stretch of the Santa Fe trail, a lucrative trade route that linked Missouri (then the eastern boundary of the United States) with the town of Santa Fe in present-day New Mexico.
In an effort to reap some of the commercial benefits of this trade and to further establish Texas' claim to the Santa Fe area, President Mirabeau B. Lamar appointed commissioners to the region and promised governmental representation and other benefits to its citizens.
Then, without the approval of the Congress of the Republic, Lamar proposed an expedition to Santa Fe to effect his plan. Volunteers were solicited and prospective merchants of the Santa Fe trade were promised transportation and protection for their goods during the expedition. William G. Cooke, Richard F. Brenham, Jose Antonio Navarro, and George Van Ness joined the expedition as commissioners. A military escort of several companies was organized, commanded by Hugh McLeod. Altogether, an expedition of some 320 men (together with 21 ox-drawn wagons carrying merchandise valued at $200,000) set out on June 19, 1841, from a point just north of Austin.
Throughout the summer, the caravan threaded its way slowly to the northwest. Although threatened at times by Indians, the expedition suffered delays and much hardship due mainly to dwindling provisions and failure to locate a suitable route through an extremely rugged terrain.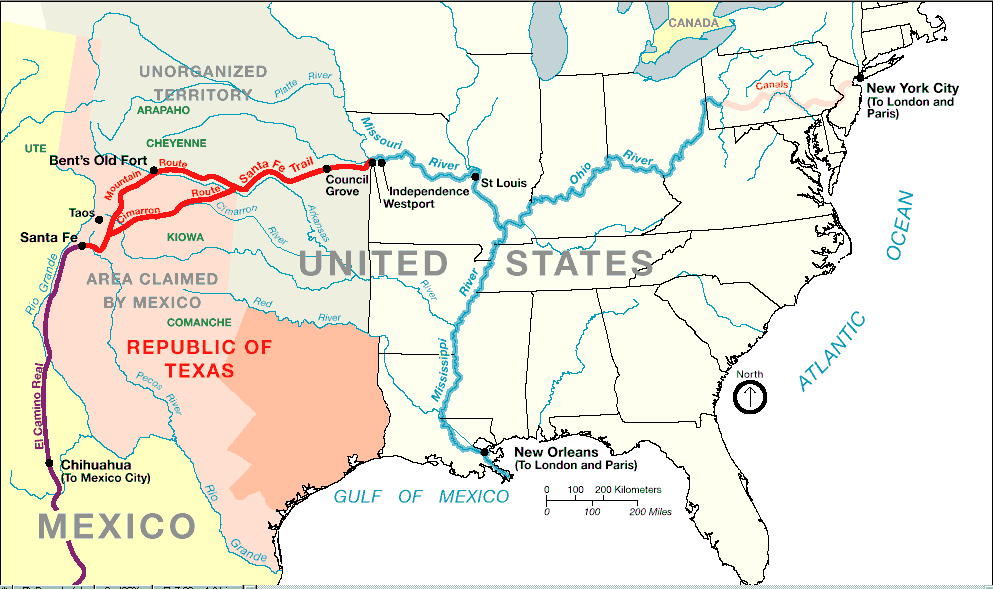 Their most surprising and severe setback upon entering the settlements of New Mexico, however, was the hostile reception they received. Rather than the welcome that they had expected, they were greeted by an armed force sent out by New Mexican Governor Manuel Armijo, who maintained close ties with the Texan's arch-enemy–Mexico. Through the efforts of William G. Lewis, a traitor from within the Texan expedition, the Texans were persuaded to surrender to Armijo's forces.
Following their surrender, the Texans were taken prisoners, treated harshly, and marched some 2000 miles to a prison in Mexico City. After the considerable diplomatic controversy between Mexico and the United States, most of the prisoners were released the following April.
The expedition thus ended in failure. It became yet another of a series of encounters between Texas and Mexico that would lead to the annexation of Texas by the United States, and ultimately, the Mexican-American war.